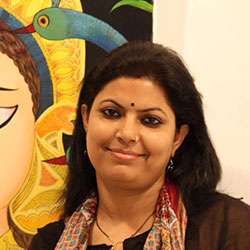 MEENAKSHI JHA BANERJEE
Education — MFA in Fine Art.

Vivid colours and strong expressions characterise Meenakshi Jha Banerjee's artwork. Her works bear the reflections of the vibrant panorama of tradition, embedded in the folk paintings of Madhubani. A variety of textures and shading give life and form to both the figures and their surroundings, bringing out everything from skin and leaves to textiles. The stylized figuratives and the many intricate patterns seen throughout the works highlight the strong influence of tribal artwork on the artist's own creations. 

The artist lives and works in Patna.

MORE WORK BY MEENAKSHI JHA BANERJEE